What is Patreon?
Now you can make a direct difference to how much of the Heavenfield world gets made! Patreon lets fans of the story pledge a small (or large!) amount of money per month to afford me the time to create more more MORE!
---
How does Patreon Work?
---
Pledge as little as $1 a month. You can edit or cancel your pledge amount at any time.


Get access to some cool rewards at different tiers of pledge, including:


Access to the Patron-only activity feed, for exclusive updates, works-in-progress, and behind-the-scenes news.


Listen to a Brand-New ongoing Audiobook exclusive to Patrons!


Access to my work as I create it, including Recorded Book Readings, Notebook scans, Concept art, & Illustrations.


Your name in the Hall of Fame!


Early release of the sequel audio-book.


Advance access to the Heavenfield Datavault!


Your name in the credits of future print books & audio-books.


Free access to all current unlockable areas on the Heavenfield website!
---
Help me make the Sequel Audiobook and the Third Novel.
Check out the full details on the Patreon Page:
Over the past year or so I have realised that I simply can't find the resources to complete all the pieces of the Heavenfield that so many of my wonderful followers have been asking for. I had such a positive reaction to the release of The Dead Man's Feast, and so many of you asking for an audio version, that I decided if I don't ask for your help then so much will never get done...
So I am turning to Patreon. Patreon is a type of crowdfunding (like Kickstarter), but pledges are usually smaller amounts (typically $1 - $10), but monthly, so fans can become true patrons of the artworks they love. It seems such a perfect idea, whereby supporters can directly help the author or artist to have some financial stability, without the need for a publisher or agent (which I have never felt would be right for the Heavenfield).
Any pledges made would go towards the running costs of the Heavenfield, with the hope that one day I could reduce the amount of freelance work I do and make room for the Heavenfield. There are so many projects your help would directly effect, including: work on the third novel (half-way through but put on hold due to lack of resources), completion of the Heavenfield Datavault (a huge online encyclopedia of the Field), paintings, digital artworks, and also a script for a radio-play, the beginnings of which were commissioned, but again put on hold until more resources can be found.
But, of course, my main priority is the audiobook of The Dead Man's Feast. I'm aching to get started on it, and I'm sure that with your help we won't have to wait much longer!
---

---
What sort of Rewards can I get?
---
Unlock the Heavenfield website for Free!
Depending on which tier of pledge you choose, you can get access to the unlockable areas on the Heavenfield website, such as e-books, audiobooks and the Datavault, and if you become an Elite Exile you can even get your name mentioned in the print books and the audiobook.
Listen exclusively to a Brand-New ongoing Audiobook!
Get to see first drafts and notebook scans
I will also be releasing regular updates exclusive to Heavenfield Patrons in the Patreon activity feed, with sketches, concepts, and notebook scans of the stories as they are written, so you can truly be a part of the making of these projects.
Get regular updates, artworks and writing.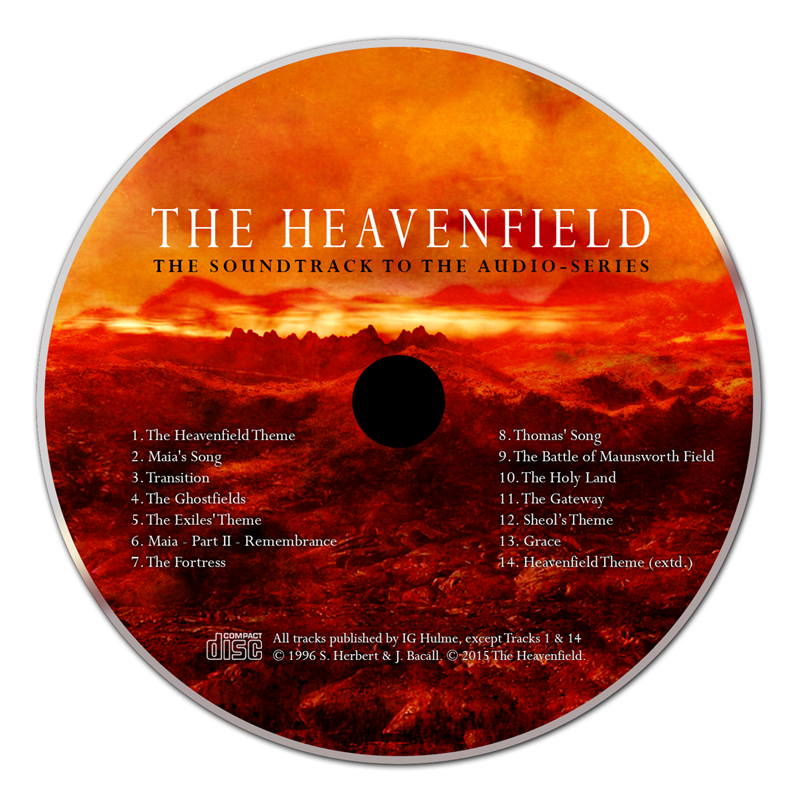 Listen to & Download the Heavenfield Soundtrack Album!
---
If you pledge $25 per month or more you will become an Elite Exile! Get to access EVERY unlockable area - get your name in the next printed book, and be listed in the Audiobook credits! Find out more on the Patreon Page, and become one of the ELITE!
---
So please, help out if you can, and make a pledge to support the Heavenfield – Thank you – let's make it amazing...
Many Thanks,
I G